Request A Call Back To Discuss Your Project In More Detail.
Wrought Iron Doors Is Our Specialty.
Iron Works USA offers many custom features to make your new door a one of a kind piece. We offer a large selection of iron door designs, multiple glass styles, and a wide variety of color options. Our doors are one-of-a-kind, hand forged entry doors that will set the tone for your entire home. Therefore, we manufacture all of our doors in-house and have over 70+ design styles to choose from.
If you are looking for something completely unique, we we can custom design any wrought iron door through our CAD design software.  Rest assure that the quality and craftsmanship of our doors will last a lifetime. Whether you are looking for a residential or commercial door, check out our gallery to find the right style you are looking for to increase the curb appeal and the overall security of your home or business.
Give us a call or fill out the form below to receive a FREE quote today!
We Measure, Deliver and Install;
Iron Entry Doors
Iron Doors with Glass
Double Iron Doors
Single Iron Doors
Decorative Iron Doors
Ornamental Iron Doors
Modern Iron Doors
Ornate Iron Doors
Custom Iron Doors
Iron Security Doors
Iron Glass Doors
Iron French Doors
Wrought Iron Front Doors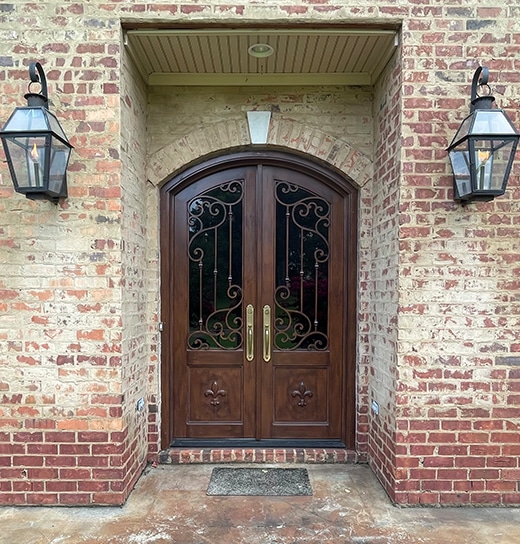 Request A Custom Quote On Wrought Iron Doors For Your Home or Business